Entry Systems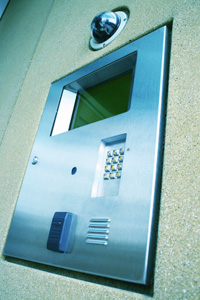 Access and security needs require individualized and comprehensive care - Functional Systems gives you a prescription for both
Bringing together all your security and access needs requires a solution as comprehensive as the care you provide. Today's digital technology gives you the tools you expect from an enterprise class access control system, and the scalable flexibility you need. Because your facility is too important and complex for one-size-fits-all solutions.
Providing access and security, Functional Systems card access systems integrates with all CCTV systems, multiple DVR/NVRs and supports your existing IT network. Fully integrated - alarm events trigger actions, including targeted lockdowns, across all your technologies - controlled from one easy-to-use multilingual interface.
Manage visitor, patient and staff access - know where they are, where they've been and in an emergency, how to evacuate them. Control who goes where and when, secure and audit your pharmaceuticals, records, labs and offices. Create and exchange badge and personnel data, to export time, attendance and payroll functions
Functional Systems total systems approach delivers unrivaled features and no-delay high-speed processing all designed to meet new and future FIPS201 and TWIC requirements.
Panels process full cardholder CHUID numbers from all FIPS201, TWIC and CAC cards and reader formats
Unique no-delay realtime evaluation of cards and expiration dates right at panels - key for high - traffic areas and for embedded contractor or vendor access dates
High speed processing - door-open times of ½ second plus 10-times faster system communications and full panel downloads in as little as 3-seconds
Onboard storage for up to 1 million cards or 500,000 full-data FIPS PIV cards; 75, 128 and 200 bits
Future 256 bit PIV and biometric minutiae fi le support
Easy-to-administer Software with EZ PIV-Badge Enrollment Utility with data-error check for FIPS, TWIC and CAC formats. Also featuring: Enhanced threat level management with global lock-down, dynamic maps, multiple anti-passback areas, web client remote access, NVR/DVR integration, etc.
Government legacy system support and easy, economical FIPS201 upgrades with virtually no downtime